Roche Bobois was founded in 1960 by an unlikely partnership between two families, The Roches and the Chouchans. In 1950, Jacques Roche purchased the Alexandre Dumas theater in Paris and transformed the theatre into a contemporary furniture store inspired by the Bauhaus movement. His sons, Francoise and Philippe joined the company and established development strategies built around growing their distribution. During this time, the Chouchans sold furniture in Paris at Au Beau Bois (later becoming Bobois). A decade later, brothers Francoise and Philippe Roche attended the remarkable Copenhagen Salon expo where they met Patrick and Jean-Claude Chouchan. Within a year of their first meeting, the Roches and Chouchans catapulted their newly established furniture store into the public eye by publishing their first catalog, as well as their first nationwide advertising campaign in Elle magazine. These initiatives catapulted sales far greater than either the Roches or Chouchans ever achieved on their own. Thusly, the two families solidified their partnership and the Roche Bobois name was established and became the first dealers to sell Scandinavian furniture in Paris.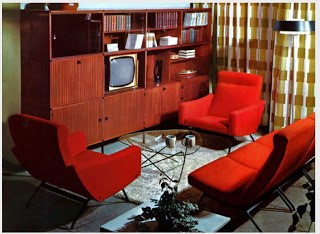 Advertising Campaign for Elle Magazine
Almost instantly, Roche Bobois created an identity and brand name that shined just as bright as their critically acclaimed contemporaries such as Bauhaus designers Minvielle, Steiner and Airbourne. The Roche Bobois identity grew even stronger as they began launching television ad campaigns, entering the homes of families around the world who were drawn in by how Roche Bobois reimagined traditional French furniture. The diverse design team of Roche Bobois made it simple for the advertising team to create unique, engaging content for consumers. They consistently worked with new and upcoming designers to stay ahead of the trends. In 1973 Hans Hopfer created the Canape Player sofa. A versatile sofa featured in multiple, vivid colorways. Perfect for an interior designer to use in a tough space or the average consumer to place in their home.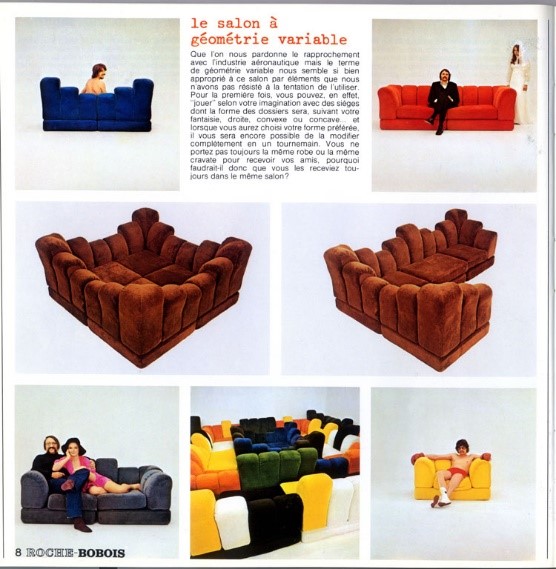 Canapé Player Sofa by Hans Hopfer
Between 1970 and 1980, Roche Bobois designed two major collections: "Les Contemporains" and "Les Provinciales". The "Les Contemporains" collection, which became the cornerstone of their sofa designs, showcased ultra-modern themes with sleek lines and stunning silhouettes. Roche Bobois was on their way to solidifying themselves as a household name, their evocative ad campaigns were not distinctive but still serve as timeless inspiration for designers. The most defining piece in the Les Contemporains collection is the Mah Jong sofa. Based entirely around the freedom of both form and function, the Mah Jong became recognized as Roche Bobois' "signature" style. This iconic modular sofa allowed for limitless configurations that heavily influenced and changed the way people envisioned and arranged their living spaces.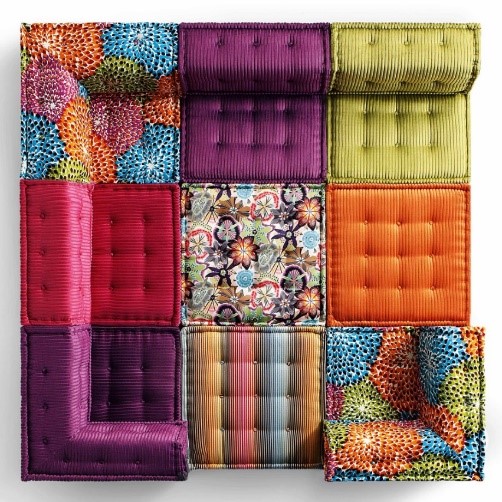 Mah Jong Sofa
The "Les Provinciales" collection presented a reimagining of French furniture. Roche Bobois used fruitwoods and handmade patinas inspired from classic French furniture and combined it with other natural materials and creativity, birthing a completely exclusive and bold new concept of French furniture. The Les Provinciales collection, which has since been renamed the "Nouveaux Classiques" collection and is comprised of an array of show-stopping pieces.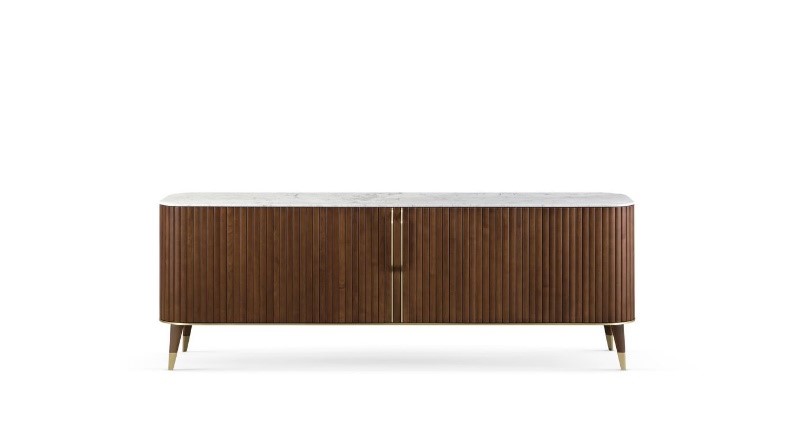 Modern Sideboard from Nouveaux Classiques
A few other timeless designers Roche Bobois has worked with include Missoni, Cedric Ragot, and Luigi Gorgoni to name a few. One of their most notable collaborations is with designer Sacha Lakic in November, 2017. Lakic wanted to conju the image of a a basket of ballons which you cannot help but want to leap into. The piece is entirely handmade and features in several different colors and unique 3D fabric.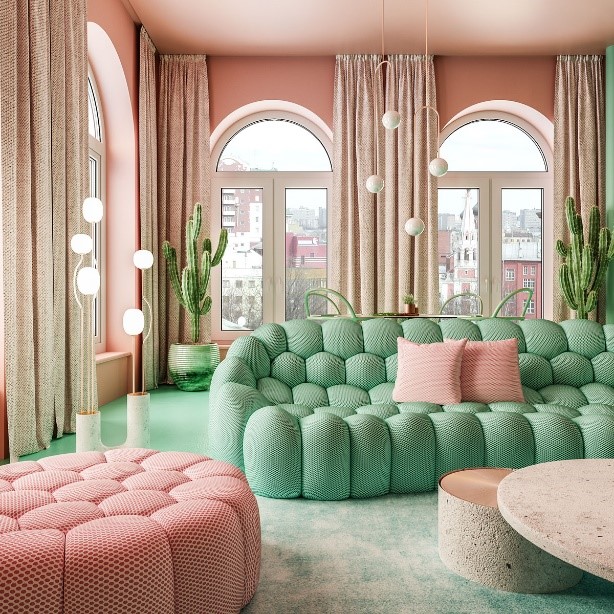 Sacha Lakic's Bubble Sofa and Matching Ottoman
By the 1990's the cultural climate created a trend of fusing world influences into the Bobois product. Roche Bobois' response to this trend was the creation of the "Les Voyages" collection. The most prominent feature in this collection was the use of culturally derived upholstery and fabrics, evoking a sense of travel and worldliness. It is evident that Roche Bobois is a constantly evolving company with its finger on the pulse of the consumer. From the 1990's to the present, Roche Bobois has continued to reinvent furniture and the concept of interior design in homes all over the world. By 2004, they opened their first showroom in China which landed them the milestone of 100 showrooms opened abroad. Since 2011, Roche Bobois has launched new collections every six months. They have also collaborated with fashion brands and interior designers, most notably, Jean-Paul Gaultier, a French fashion designer. Jean-Paul Gaultier's "Ben Hur" chair, originally designed in 1993, was released in 2010 with renowned praise. Gaultier defied convention and redesigned classic style by integrating playful, whimsical elements. Gaultier also created custom Mah Jong sofas, and bedroom sets fit to match his fashion designs.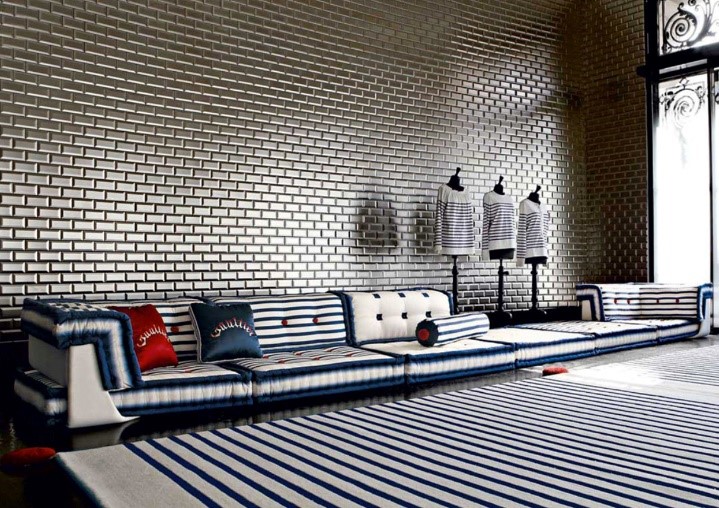 Jean-Paul Gaultier for Roche Bobois
Roche Bobois celebrated its 60th anniversary in 2020 and continues to establish showrooms all over the world, including Philadelphia as of January 2020. Roche Bobois maintains their stronghold as the world leader in innovative and exclusive furniture through their constant effort to evolve and bring avant guarde ideas to the furniture world to maintain their position as not only a furniture company, but design pioneers.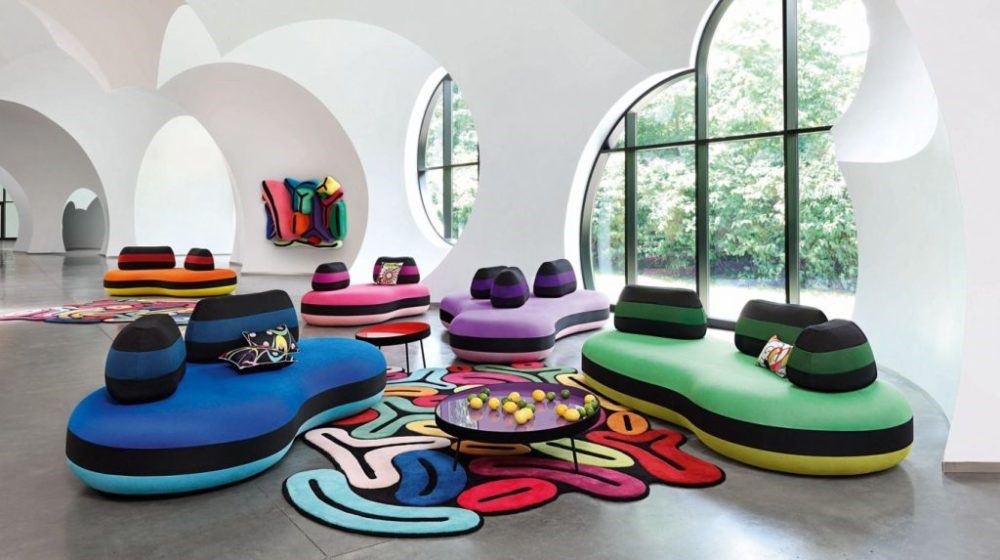 Like the original founders of Roche Bobois, the current iteration of the company stays devoted to providing cutting edge furniture and thoughtful design for its elite clientele. They never cease to amaze devoted customers with playful collaborations and superior quality. Roche Bobois proves itself over and over by embracing change and being ready to take on the next generation of design connoisseurs.