Prominent French furniture house Ligne Roset came from humble beginnings. Antoine Roset founded the company in 1860. A family owned business, Roset began manufacturing wooden umbrellas, walking sticks, and chair frames. After World War II, the business model quickly shifted. Antoine's grandson Jean began to produce tables, chairs and beds for commercial usage and institutions. After ten years in the industrial market, Jean's sons began to explore revitalizing the company and breaking into the domestic market. The brothers began a partnership with influential interior architects and designers, notably Michel Ducaroy. The Ligne Roset brand as we know it, became official in 1973 with their very first store opening. To mark the momentous occasion, Ligne Roset revealed the launch of their iconic Togo sofa designed by Ducaroy on the same day.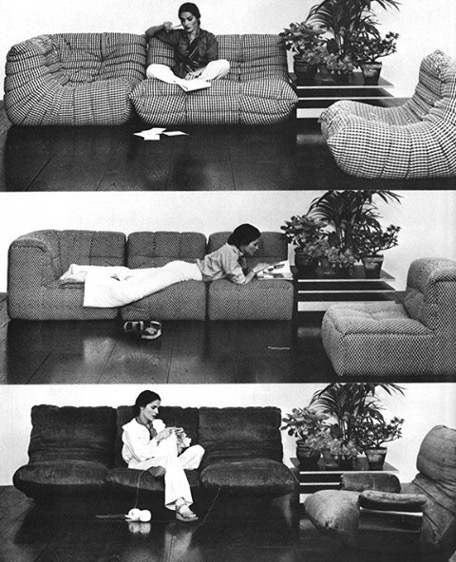 Original 1975 ad for the Togo Sofa
As a family owned company, Ligne Roset strives to maintain their intrinsic values and work only with the most ground breaking and renowned designers. A few designers on this impressive list include Didier Gomez, Pascal Mourgue, Peter Maly, Pierre Paulin, Inga Sempe and the Bouroullec brothers. This due diligence and heightened attention to quality and design has earned the house numerous Via awards. A few designers proved so influential that Ligne Roset chose to reissue these recently, such as Pierre Paulin's daybed.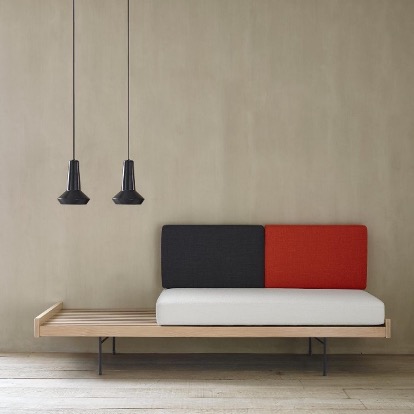 Paulin's timeless design from 1953 seamlessly blends in with today's contemporary emphasis on Scandinavian design featuring smooth outlines and bright pops of color. Paulin was also known for his Pumpkin chair which was reintroduced in 2008 and continues to see success due to the revival of interest in vintage furniture.
Another noteworthy moment in Ligne Roset history is the birth of the Ploum sofa by the wonder duo Ronan and Erwan Bouroullec. After extensive research into the concept of comfort and adaptability of furniture, the duo created this cloud-like dream of a sofa, the Ploum settee. The large settee is asymmetrical in construction, it can accommodate up to four people, slightly angled to encourage people to sit closer together. The malleability of the design allows the sitter to sit in virtually any position desired, all while achieving maximum comfort.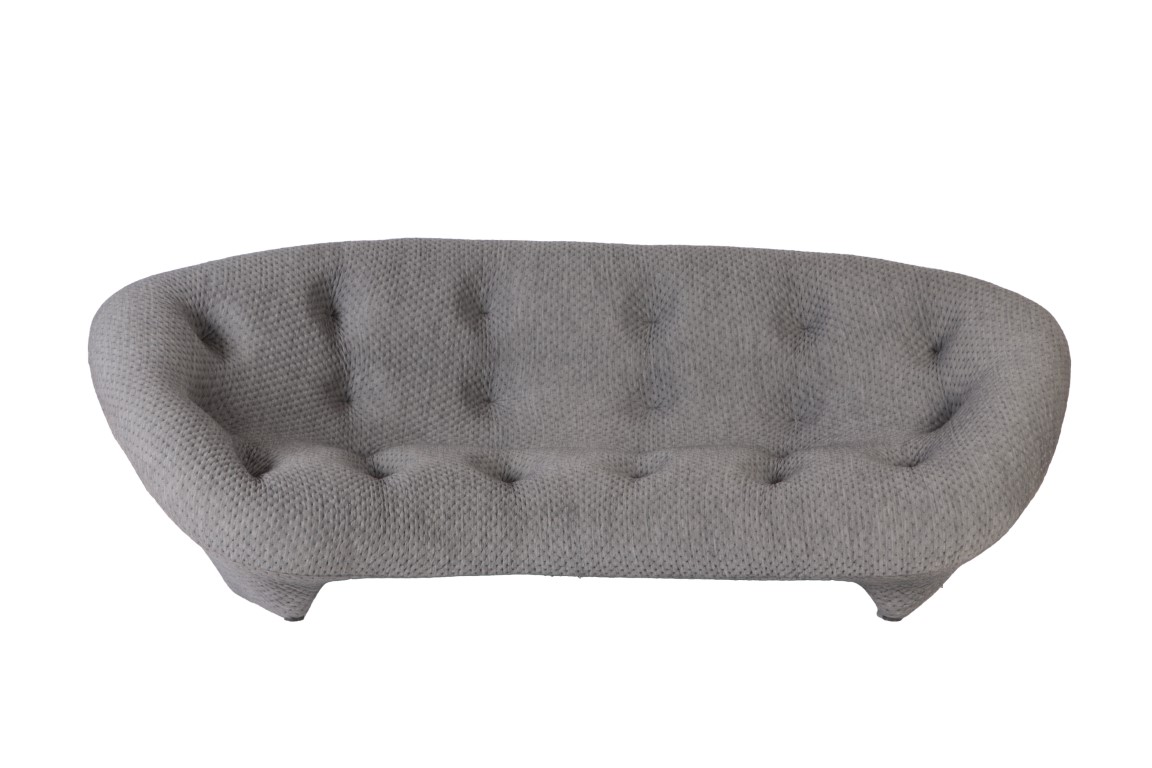 A truly unique experience, the Ploum sofa by Ligne Roset won the Reddot design award in 2011.
Collaborations with award winning designers maintained Ligne Roset as a formidable force and leader in the international design world. There are over 750 retail distributers worldwide, and Ligne Roset furniture is consistently highly sought after. Even in 2021, the Togo sofa dominated Instagram as one of the most popular sofas of the year attracting influencers, celebrities and designers alike. Ligne Roset continues to look to the future by constantly evolving and looking for new challenges for the future.
For a company that is now over 160 years old, Ligne Roset remains at the forefront of its competitors not only in the world of design but in sustainability. The humble beginnings in Briord remain where the company's manufacturing complex is located. All furniture is produced in line with FCBA- certified forest friendly wood, while sophisticated UV acrylic varnishes are used to minimize air pollution and create furnishings entirely free of the biocides, heavy metals, and halogenated compounds typically found in furniture varnishes. The President of Ligne Roset, Pierre Roset stated that they consistently strive to produce less and less pollution as the company continues to grow. Approximately 56% of all factory waste is recycled. In the winter, Ligne Roset's cabinetry is even heated with an oven that utilizes remaining wood scraps and sawdust as fuel.
Marking the 160th anniversary of the company, Ligne Roset is revisiting classic design styles by renowned designers and novelties created by contemporary designers, the anniversary collection will be one of the most memorable collections of Ligne Roset history. One of the most notorious pieces of this collection is the "Asmara" sofa by Bernard Govin, initially manufactured in 1966.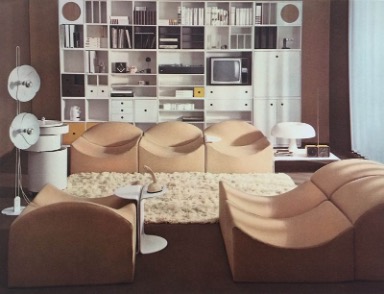 The Asmara sofa promotes creativity and comfort, allowing individuals to arrange five different modules to find their ideal shape. The idea behind the sofa is to promote togetherness by encouraging individuals to sit in their preferred positions, yet they can sit alongside one another on the same sofa. This is a reoccurring theme for the thought-provoking furniture house. Ligne Roset continuously focuses on the comfort of the individual, as well as the group.
An extraordinarily unique company, Ligne Roset strives to remain at the head of the pack when it comes to furniture manufacturing. It is remarkably rare for a company to be consciously aware of not only the furniture it is producing, but of the employee's working conditions and types of materials produced. Taking a 360-degree approach to the business, they ensure longevity for their business model. Ligne Roset is truly an exemplary company, worthy of their 160 years of success.