The market for material has always been determined by public demand and availability. The lack of access to expensive elements post World War II had, in fact, the opposite effect on designer Line Vautrin, ultimately leading to her status as a world renowned craftsman, designer and artist.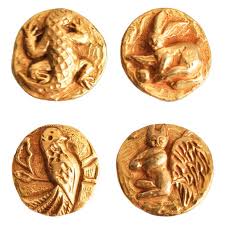 Born April 13th, 1913 Line Vautrin was the daughter of a bronze artist and fabricator in Paris. Starting at the young age of 12 she began practicing her father's craft and by 15 became a master in her own right with an interest in jewelry design. She was too young to profit legally from her work, so would send communications and invoicing on letterhead bearing her father's name. By age 21 she had produced her first line of jewelry. Discovering a gap in the market, and without the funds for expensive metals, Vautrin cleverly made brass costume jewelry with gilt metal. This combination of mediums proved perfect, having a similar weight and shine as more expensive elements while being less expensive to manufacture and distribute.
In 1937 she presented her jewelry at the Universal Exhibition in Paris, exhibiting for the first time what has now become a renowned favorite of her creations, a selection of gilt brass buttons featuring humorous designs and effigies often based on elements of mythology and art history. With WWII rationing and an economic depression, women were looking for cheaper alternatives to their usual luxuries without forfeiting quality. Customers flocked to Vautrin's work due to the level of craftsmanship and volume of product. She even went as far as to design bracelets and belts from gilded electrical wire and old billiard balls.
This new found success allowed Vautrin to open up a shop front in 1938, not too far from the Champs Elysee. Early success led Vautrin and her husband, the famous artist Bonnaud, to settle down. Bonnaud strived for bigger fame and prestige than Vautrin did, ultimately leading to the downfall of their marriage. By the 1960s the shop became all too overwhelming for Vautrin to handle, her desire to continue exploring decorative arts pushing her to close down the location and reopen in a larger space on the Left bank, acting more like a showroom or gallery rather than a traditional retail space.
The turning point in Line Vautrin's career was her development of "talosel". Using a new material, cellulose acetate, she created and patented this signature fabrication method for a synthetic resin. "Talosel" was made by laying out thin pieces of cellulose acetate laid out in layers, scraped, and fired later to be inlaid with small mirrors. This method was the basis of her famous line of Witch Mirrors, uniquely convex in shape with intricate and eccentric borders. The material lent itself well to customisation as it could be made in many different colors, shapes and patterns, most notably her star and sun shaped designs. Highly pigmented colour is achievable through this method. Vautrin's Witch mirrors were received extremely well by the public, garnering quick market success. . She founded a craft school for women, teaching technical classes on traditional crafting and techniques that she herself had designed. This only furthered the production of her craft and grew her business and production.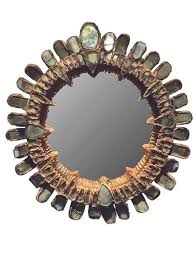 By the 1960s, Vautrin had grown tired of her shop and business no longer appealed to her. After opening a second location in Morocco, Vautrin left her store to start a school Named A.D.A.M, The Association for the Development of the Manual Arts. Alongside her daughter she taught crafts such as jewelry making and metal working to a predominantly female student body.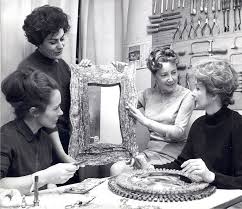 Vautrin passed away in April, 1997, leaving behind her a legacy that would grace the Musée des Arts Décoratifs in the form of a retrospective two years later. Today Vautrin's jewelry and decorative objects have become a collector's envy, treated as fine works of art; her creations are regularly displayed in galleries and museums with some finding their way to market. Showrooms 2220 honors the legacy of Line Vautrin by manufacturing customizable reproductions, available on our website